Overview: A separate network that does not require security encryption is used to accommodate allowed entertainment devices. To join this network, a Radford University student or employee must first register the device. Registration allows the University to contact the user of a system that may be misbehaving.
Devices that are currently NOT allowed on MyDevices include:
Apple OS X Computers

Windows Computers (Win XP, Vista, Win7, Win8/8.1 or 10)

Linux and BSD Computers

Microsoft Surface Tablets

Google Glasses

Chromebooks

Wii Consoles
Non-exhaustive list of items that ARE allowed on the My Devices network include:
Printers

Apple TV

TiVo

Smart TVs (i.e. Samsung, LG, Sony)

Amazon Fire

Xbox 360 and One

Playstation 3 and 4

Internet-connected Blu-Ray Players

Amazon Echo or Dot

Google Chromecast
1. To register your device, navigate to https://mydevices.radford.edu and login with your RU credentials to your My Devices Portal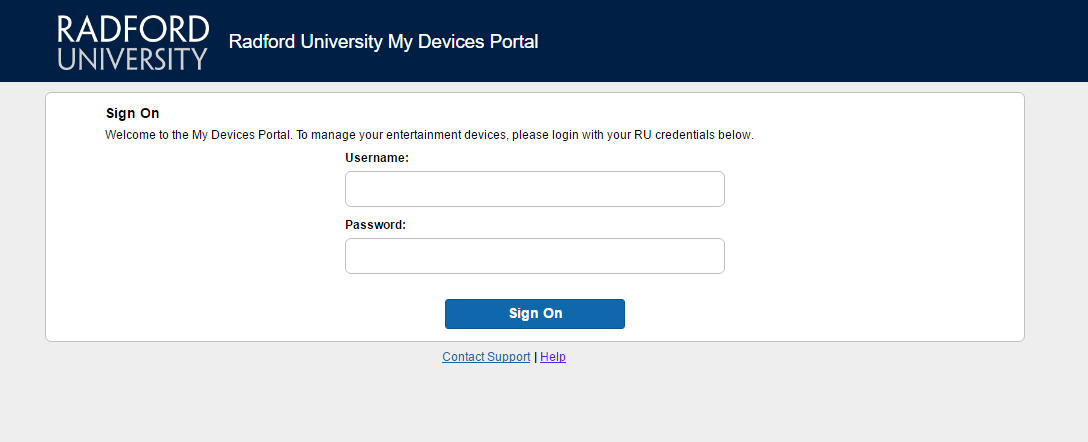 2. Click Add

3. Enter the MAC address of your device, separated by colons. You can typically find your MAC address under your device's network settings; it will be in the format AB:CD:EF:12:34:56. Once you have entered your MAC address, Device ID (a name for the device), and optional description click Submit.
Visit the link below for step by step instructions on how to find the MAC address for some of the most popular devices:

4. Once you have registered the MAC address of your entertainment device, join the device to the MyDevices network. You will not be able to join this network until you have registered your device.

If you encounter other problems, please contact the Technology Assistance Center 831-7500.